Kulana
Is our long established family favourite brand of 100% Pure juices from concentrate, competitively priced, that is ideally suited to both householders and caterers alike.
Our 1 Litre range consist of Orange, Apple, Pineapple, Grapefruit and Tomato Juice covering all your Juice needs.
Our 200ml range comes in Orange, Apple & Pineapple, with Orange and Apple "Juicy" the newest school compliant additions to the range.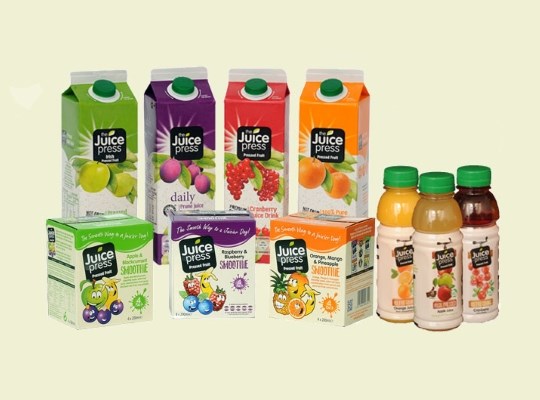 Juice Press
Our premium range "Juice Press" comprises of a complete range of products ,NFC and Juice Drinks including our "Irish Pressed" Apple Not From Concentrate; meeting all the needs of retailers and hospitality industry.
Jaffa Gold
Jaffa Gold is a very competitively priced Juice Drink range, which is both refreshing and Delicious. It is available in a range of flavours Orange, Apple, Tropical, Apple & Blackcurrant and Cranberry all with No Added Sugar.
Jaffa Gold Splash is our 250ml range of fun Juice Drinks which are very competitively priced and contain NO Artificial Colours, Flavours or Preservatives. Available in Orange, Blackcurrant and Strawberry flavours.
Our Jaffa Gold Sunstream Splash is a big kid's favourite.  Packaged in 10 x 200ml foil Pouches with a choice of two flavours, Orange or Apple & Blackcurrant.  Ideal for Kids parties and family get together's.